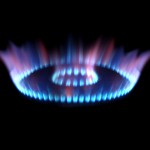 Natural Gas traded lower settling $3.666, down $0.034 (0.9%). The curve was weaker, 13/16 down $0.03. Hub cash was weaker, ~$0.20 back this morning, Z-6 down $0.40 to $3.90 as temps are running 10-15 above normal in major Northeast/Midwestern cities through Monday. The 12z runs were mixed, the operational was significantly warmer overall, particularly the 11-15 day as troughing over the Eastern U.S. wasn't as strong. The ensemble and European models were generally more in line with overnight models, showing much of the nation turning cooler, particulary West to Central U.S. toward the middle of next week. The EIA reported a withdrawal of 73 Bcf, slightly higher than market expectations and bullish against last year's 20 Bcf withdrawal and 5-yr average 39 Bcf withdrawal. YoY we now stand at a 27 Bcf deficit and the surplus against the 5-yr average tightens to 150 Bcf. Next Thursday we anticipate a withdrawal from storage btwn 0-5 Bcf, bearish vs last year's 102 Bcf withdrawal and 5-yr average 94 Bcf withdrawal.
Vol was offered through G13 and little changed beyond: (F13 365 25.00 27.00 37.24% -0.45% G13 370 40.50 42.50 36.59% -0.23% H13 365 49.00 51.00 36.29% 0.10% J13 365 54.00 56.00 34.48% 0.40% K13 370 59.00 61.00 32.83% 0.15% M13 375 64.00 66.00 31.64% 0.15% N13 380 69.00 71.00 31.23% 0.19% Q13 380 73.50 75.50 30.98% 0.37% U13 380 79.00 81.00 31.23% 0.27% V13 385 84.50 86.50 31.30% 0.09% X13 395 86.00 88.00 29.46% 0.08% Z13 415 89.00 91.00 27.85% 0.04%). Technically we are bearish but the market is oversold, we look for support $3.50 to hold. Resistance is found at $3.70, $3.82, $3.93. On the downside we see support at $3.58, $3.50, $3.43, $3.36.


Editor's Note: Natural Gas Commentary readers who are equity investors/traders only can gain access to the Natural Gas space through the following exchange traded funds (ETFs).
Natural Gas
United States Natural Gas Fund (UNG, quote)
United States 12 Month Natural Gas Fund (UNL, quote)
First Trust ISE-Revere Natural Gas Index Fund (FCG, quote)
About OTC Global Holdings
Formed in 2007, OTC Global Holdings is headquartered in Houston and New York, with additional offices in Chicago, Jersey City, London and Louisville. It is a leading independent interdealer broker in over the counter commodities and the largest liquidity provider to CME ClearPort and ICE Clear U.S. Through its subsidiaries the company holds a dominant market share in the U.S. and Canadian natural gas markets, the U.S. power markets, crude oil and crude oil options, crude oil products and crude oil product options, agricultural and soft commodities, as well as structured weather and emission derivatives. The company serves more than 250 institutional clients, including 45 members of the Fortune 500, and transacts at over 150 different commodity delivery points. To learn more about the company, please visit www.otcgh.com or go to http://bit.ly/OTCYouTube.
IMPORTANT NOTICE:  Trading of commodities and commodity futures and options, and other commodity derivatives has substantial risk of loss, and is not suitable or appropriate for all persons.  Past results are not necessarily indicative of future results.  The information in this piece is based on sources that are believed to be reliable, but it is not warranted to be accurate or complete, and no performance or results from use of the information are warranted.  This piece is not a solicitation or offer to purchase or sell commodities or commodity derivatives. Opinions expressed herein are subject to change without notice.