Energy Price Outlook
It was deja vu all over again for the oil markets yesterday, as both WTI and Brent made small losses within inside-day trading ranges. The incremental information in yesterday's session basically included pressure from weak oil demand and increasing worries about the upcoming German local elections, while support came from increased speculation about accommodative monetary policies in Japan and China. In the background, pressure will remain in place from the likelihood of upcoming gains in DOE crude oil stocks, and from Tuesday's monthly EIA report which showed 2014 supply growth outpacing demand 1.7 mb/d to 1.35 mb/d. The upside will continue to focus on improving economic data, managed money account buying, increased regulation of Arctic drilling permits in the wake of Shell's incident, and refinery issues at Motiva's Port Arthur facility. Chinese trade data will be released Wednesday evening and will give the latest read on the strength of oil imports. We would maintain our June WTI-Brent trade entered on Jan 4th at -$14.25 with a target at -$8.00. The ramp-up of the Seaway pipeline to higher capacities this week should narrow that spread.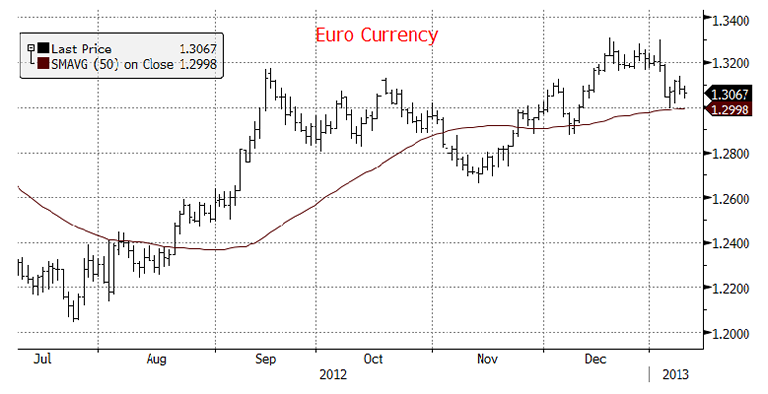 Brent finished 18c/bbl lower yesterday while WTI ended down 5c/bbl. Both markets weakened initially on the stronger dollar, which has been reacting to increasing concern in Germany. Local elections will take place on Jan 20th, and could see Chancellor Merkel's coalition partners suffer defeat. Ms. Merkel herself remains popular, but the prospect of a diminished coalition could present difficulties in the ongoing effort of European leaders to assist Greece and Spain. The euro has generally fallen over the last week or so on the prospect. The U.S. debt ceiling debate is receiving only scant attention, but may see Senate Leader McConnell take the helm from Speaker Boehner after the fiscal cliff episode. The debt ceiling is only a minor negative, in our view, as it's unlikely that it won't be raised. Oil demand in yesterday's DOE numbers provided a fresh wake up call, as it fell 1.14 mb/d on the week. It may have been influenced by year-end factors and could rebound next week, however, it's still just 137 kb/d above the two-year low and a sign that the economy remains weak. The fiscal cliff and the weakness in investment assets that occurred in late-Dec may have scared some consumers into not spending or traveling, so at least a partial rebound is justified next week. Oil stocks didn't gain as much as anticipated, but product stocks exceeded expectations due to higher refinery utilization in mid- and late-Dec. We would expect those trends to reverse, and for oil stocks to resume building at a healthy pace in the weeks to come.
The fresh bullish news mainly came from expectations of fresh stimulus in Japan that could be announced as soon as this Friday. The new gov't has been undertaking efforts to expand growth, and could push the BOJ to announce fresh QE at its Jan 22nd meeting. The market is also focusing on the potential that the Chinese central bank cuts its reserve requirements, although there isn't a timeline for such an action. Shell's drilling in the Arctic may be on ice in the near-term, as the company is receiving fresh scrutiny from the U.S. Interior Department following the Dec 29th-31st incident where a drilling rig was lost, recaptured, and then grounded. A 60-day assessment of drilling will be done, which could affect future permitting for Arctic exploration. Lastly, Brent may receive some support from Iraq's halt of exports to the Turkish port of Ceyhan due to a fault in the pipeline. The line was shipping 425,000 b/d prior to the shutdown.
 Natural Gas
Feb futures finished 10.5 cents lower yesterday at $3.113/mmbtu. Weather was the primary concern once again as private forecasters are predicting warmer temperatures beyond 10 days from now. NOAA's 8-14 day maps have moderated some of the below-normal temperatures that had been forecast over the last few days. The market appears likely to continue lower until there's significant and lingering cold weather in the forecast.
Bloomberg had a good article yesterday on politics and energy, suggesting that Energy Secretary Chu may leave his post soon. It suggested that Mr. Chu's replacement as well as second term Obama administration initiatives may be guided by the EPA's study on the effects of fracking which is due in 2014. The concern could then be that any new regulations on fracking could be mishandled and then slow development. Of course, a replacement for Lisa Jackson at the EPA is a more immediate concern, after she announced her resignation last month. The outgoing governor of Washington Christine Gregoire is one potential candidate.
The impact on the natural gas market could be mixed. It may be negative over the next year until the EPA's fracking study is published, as the status quo may dominate. It could then be bullish for prices if fracking regulations are mishandled. Another question may be whether the same level of aggressiveness that the green agenda promoted by Pres Obama and Sec'y Chu had four years ago ends up returning. Without another 2009 style stimulus packed with windmills and given the new level of fiscal austerity in Washington, the only way that the green agenda will receive much gov't backing is if fossil fuel prices rise considerably. The growth in fracking may prevent that from happening.

Global Economic & Dollar News
The BOJ may undertake further policy easing at its Jan 22nd meeting, according to Reuters. Japan's government will announce new emergency economic measures intended to boost growth.
House Speaker Boehner said that he may agree to monthly hikes in the debt ceiling. The statement is being considered as a "blink" on the issue, meaning that he may be more in favor of dragging his feet" rather than allowing the limit to be breached.
Energy News
Iraq Halted Crude Exports to the Turkish port of Ceyhan due to a fault in the pipeline. The line was shipping 425,000 b/d prior to the shutdown
Shell's Drilling in the Arctic will be subject to fresh scrutiny by the U.S. Interior Department. A 60-day assessment of drilling will be done, which could affect future permitting for Arctic exploration.
API's Gerard said that the U.S. is quickly becoming the epicenter of world energy production and that U.S. energy reserves are "unrivaled."
Upcoming Events
Thu - Chinese Trade Data, Oil Imports (Wed evening) Thu - ECB & BOE Meetings
Thu - Natural Gas Inventories (10:30am EST) Tue - API Inventories (4:30pm EST)
Wed - Iran-IAEA Meeting
Wed - EIA Weekly Oil Inventories (10:30am EST) Jan 18th - IEA's Monthly Report
Jan 20th - German Local Election
Jan 29-30 - FOMC Meeting
Feb 12th - EIA's Short-Term Outlook
Feb 24-25 - Italian election Mar 1st - Sequester Begins May 31st - OPEC Meeting
 Analysis
 EIA Inventory Review
Oil stocks gained 1.3 MB in yesterday's report, which was small considering the 11.1 MB drawdown seen in the previous week. There may have been an element of follow-through to the numbers, however, as product inventories surged again as refiners apparently made efforts late in the year to liquidate their crude oil stocks. That trend should abate in next week's numbers as conditions return to normal. Oil stocks were boosted by a recovery in imports as well as a decrease in demand. However, the biggest takeaway we had was not from the latest data, but from the ongoing downward shift in the five-year average of demand. A look at the five-year average over the last six years shows this, with 2007 being the last strongest yester. This is mostly the result of economic weakness in the U.S. and partly due to efficiency (miles driven are still down from 2007 levels). What's disappointing, is that this appears to be the new norm, which will impact oil producers and refiners going forward. The data and our analysis follow below.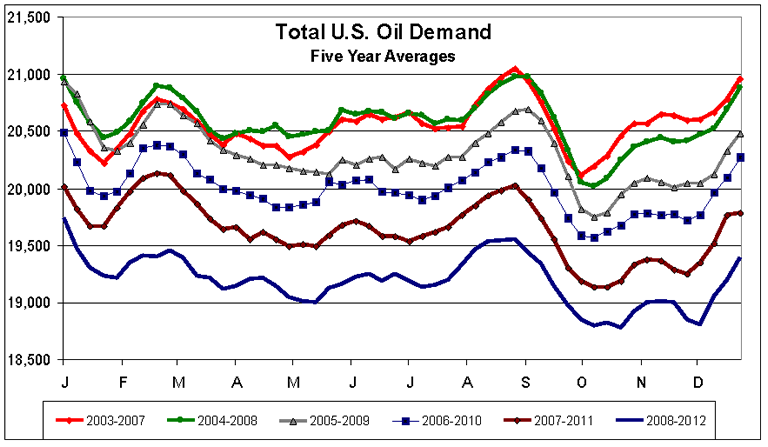 Crude oil stocks were +1.3 MB vs. +2.0 MB expected. Stock levels began the new year at 40.58 MB above the five-year average compared to 39.82 MB above it last week and 50.11 MB above at its 2012 peak. Imports were a large contributor and gained 1.25 mb/d on the week. They typically increase for the first 2-3 weeks of a new year before stabilizing. Demand fell 1.14 mb/d on the week and also contributed to the increase in oil stocks. The demand level of 17.76 mb/d was just 137 kb/d above the lowest level seen in the last two years. Demand was potentially weakened by worries over the fiscal cliff at year-end, which may have offered an adverse wealth effect causing consumers to button up their finances. The surge in refinery utilization in late-2012 has helped to boost product stocks and was partially responsible for the sharp decline in crude stocks last week. That could unwind going into next week's data, as oil stocks usually embark on a 41.6 MB build through early-May. Cushing stocks increased 332 kb/d in yesterday's report, but may fall over the next week or two as the Seaway pipeline ramps up to 400 kb/d capacity. The inventory data offered slight pressure on oil prices, and we would expect that to continue over the coming week.


Gasoline stocks were +7.4 MB vs. +2.3 MB expected. They sit 14.84 MB above the five-year average, which compares to 10.88 MB above it last week. There wasn't much to explain the sharp increase in stocks per se....demand fell 508 kb/d but was countered by a 532 kb/d decrease in production. It's more likely that the increases in production seen in mid-Dec are to blame for the jump, which could then have a negative effect in the weeks to come. Gasoline inventories typically build sharply into early-Feb before supplies begin being shipped for increases in demand tied to late-spring and the summer driving season. The data offered pressure on gasoline prices after the report, but the market was able to recover fairly quickly. We would anticipate gasoline stocks to build at a more normal rate going forward, so yesterday's numbers may be only slightly negative.


Distillate stocks were +6.8 MB vs. +1.8 MB expected. The build helped to correct the inventory shortage that's been growing since April of last year. Inventories are now 16.83 MB below the five-year average vs. 21.62 MB below it last week. The build was helped by a 170 kb/d decrease in demand and by a 56 kb/d increase in production. Imports were
+89 kb/d and also added to stocks. Prices fell initially after the data were reported, but the market climbed back as the day progressed. We would anticipate that above-normal temperatures this winter may cause demand to remain somewhat weak, and in turn, cause inventories to decline at a rate slower than the five-year average would otherwise suggest.


Editor's Note: Daily Energy Report readers who are equity investors/traders only can gain access to the energy space through the following exchange traded funds (ETFs).
WTI Crude OIL
United States Oil (USO, quote)
Power Shares DB Oil Fund (DBO, quote)
Brent Crude Oil
United States Brent Oil Fund (BNO, quote)
Natural Gas
United States Natural Gas Fund (UNG, quote)
United States 12 Month Natural Gas Fund (UNL, quote)
First Trust ISE-Revere Natural Gas Index Fund (FCG, quote)
Coal
Market Vectors Global Coal Index (KOL, quote)
Power Shares Global Coal Portfolio (PKOL, quote)
About OTC Global Holdings
Formed in 2007, OTC Global Holdings is headquartered in Houston and New York, with additional offices in Chicago, Jersey City, London and Louisville. It is a leading independent interdealer broker in over the counter commodities and the largest liquidity provider to CME ClearPort and ICE Clear U.S. Through its subsidiaries the company holds a dominant market share in the U.S. and Canadian natural gas markets, the U.S. power markets, crude oil and crude oil options, crude oil products and crude oil product options, agricultural and soft commodities, as well as structured weather and emission derivatives. The company serves more than 250 institutional clients, including 45 members of the Fortune 500, and transacts at over 150 different commodity delivery points. To learn more about the company, please visit http://www.otcgh.com or go to http://bit.ly/OTCYouTube.
IMPORTANT NOTICE:  Trading of commodities and commodity futures and options, and other commodity derivatives has substantial risk of loss, and is not suitable or appropriate for all persons.  Past results are not necessarily indicative of future results.  The information in this piece is based on sources that are believed to be reliable, but it is not warranted to be accurate or complete, and no performance or results from use of the information are warranted.  This piece is not a solicitation or offer to purchase or sell commodities or commodity derivatives. Opinions expressed herein are subject to change without notice.